by Peter Valentyne
The cinematic tattoo "Written, Produced & Directed by Emeric Pressburger and Michael Powell" preceded some of the most unique and visionary films of the forties.
The Pressburger and Powell collaborations signaled quality as well as the unusual marriage of both sensual and mystical themes that were never less than wholly original works of art. Considered early auteurs of the form, this cinematic duo created visual masterpieces that have stood the test of time. Films such as A Matter of Life and Death, The Red Shoes, Black Narcissus and I Know Where I'm Going are to this day regarded as examples of the height of cinema as an art form. They were known for their extraordinary use of the three-strip Technicolor process, whereby color was raised to new thematic heights.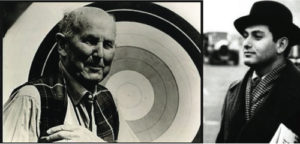 In this article for SUFI #85 Peter Valentyne provides an overview of the filmmakers' entire careers.
It is the unique power of cinema
to allow a great many people
to dream the same dream together.
~Jean Cocteau
Visit the Store to Subscribe or Buy the Current Issue and Back Issues