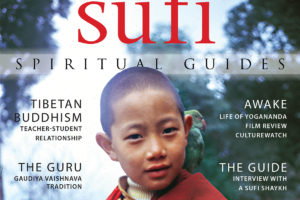 Editors' Note
At the heart of nearly every spiritual tradition is the figure of the spiritual guide or leader whom seekers turn to for guidance and inspiration and choose to follow as disciples. In this issue of SUFI, various facets of the role of the guide are explored across different spiritual paths,
underlining the fundamental importance of the master-disciple relationship. The discourse by Dr Alireza Nurbakhsh discusses the essential purpose of the spiritual guide, namely to aid spiritual wayfarers on the path to the Truth, and highlights the importance of love and selflessness as prerequisites for this role. The interview of Hossein Kashani about his discipleship under the Nimatullahi Sufi master Dr Javad Nurbakhsh provides an illuminating insight into the challenges met by the self in such a relationship. Angela Burt tackles the issue of guru failure and proposes a more realistic understanding of the guru with greater stress on their selfless conduct and wisdom than on miraculous displays of their charisma. Talat H. Halman explores the ways in which master-disciple relationships have been understood in commentaries on the Qur'anic story about Moses and Khezr, explaining how this relationship is considered superior to acts of worship and austerities in Sufiism. Jay Valentine highlights why the need for a living guide outweighs the reliance on books and independent study, and is stressed so emphatically in mystical traditions,focusing on the example of Tibetan Buddhism. Dani Kopoulos' lyrical essay Cheshm weaves opposite yet parallel lessons from the beauty and mystery reflected in the eyes of the beloved master.
Also in this issue, CultureWatch focuses on Awake, the new documentary about the life of one of the most influential swamis who relocated to the west, namely Paramahansa Yogananda. It also features the development of the musician Mehmet Sanlikol through a return to his Turkish cultural roots. The diverse writings of various genres in this issue are dedicated to exploring the transmission of teachings, the totality of trust, what it means to be a master, and what it takes to be a disciple on the path to spiritual reality.
—The Editors of SUFI
Cover Artwork © Matthieu Ricard
Subscribe or Order the Current Issue Today!