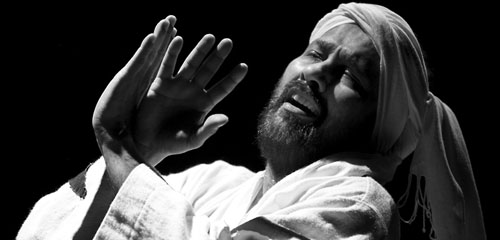 By Sholeh Johnston
For issue #85 of SUFI, theatre artist and academic Sudipto Chatterjee shared the work he is doing to bring the songs of renown Baul poet, Lalon Phokir, to the stage.
"I first heard Lalon Phokir's songs as a child growing up in Bengal," says Chatterjee, writer, researcher and performer of the Man of the Heart project. "Every evening a Baul man would sing and ride his bicycle home, passing right by the mezzanine window of our house. Sometimes I would ask him to stop and sing for me, and he would. I remember these lines from the first of Lalon's songs I heard: "How does this unknown bird flit in and out of the cage? If I could put the chains of my mind on it…" I asked my mother what the song was talking about, and she replied that the bird was life and the cage was the body. I wasn't quite happy with this answer—how could life flit in and out of the body? But I'm glad that she never gave me a satisfying answer because that's what started my search for Lalon."
Chatterjee's search led him to research and create Man of the Heart, a one man show about Lalon Phokir, directed by Suman Mukarjee and developed over 16 years of artistic inquiry and field research in Lalon's home region: Kushtia, Bangladesh. The result is not only a performance, but one of the world's most comprehensive archives of recorded material relating to Lalon.
The performance is a highly creative attempt to explore the opportunities that live theatre offers to represent oral tradition in contemporary form. "Man of the Heart is the result of the coming together of anthropology, video, music and theatre, of the meeting of West Bengal and Bangladesh—the two entities that were once one, and home to Baul communities," says Chatterjee. While mixing media and form is a common concept in contemporary postmodern theatre, in the case of Man of the Heart the combining of these two elements is not an intellectual exercise. There is simply no other way that a performance could represent Lalon's complex and contentious biographical tableau, and the Baul philosophy—a hybrid itself—that he sought to live by.
Read more about how Sudipto Chatterjee's journey to make Man of the Heart has evolved over the last seven years in Issue 85 of SUFI.
Visit the Store to Subscribe or Buy the Current Issue and Back Issues