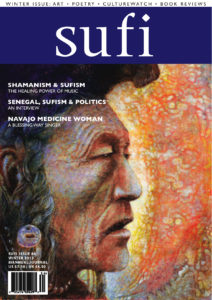 SUFI JOURNAL #84, WINTER 2013
Current Single Issue – price per issue (includes shipping)
US $10.50 USD [wp_eStore_add_to_cart id=98]
Canada $11.00 USD  [wp_eStore_add_to_cart id=99]
International $17.50 USD [wp_eStore_add_to_cart id=100]

Discourse on Caring for Others, Sufism and Altruism. Oruc Guvenc and The Healing Power of Music, Shamanic Traditions and Sufism. Two interviews: Blessing Way Singer, A Visit with Navajo Medicine Woman Sheila Goldtooth at Canyon de Chelly, Arizona; and Senegal, Sufism Politics, A Conversation with Seydou Diop. More articles, narratives, and the poetry of Mark Nep and 6 other poets from various traditions. CultureWatch, a  section featuring eclectic musician Mercan Dede, inside I, Pet Goat II and Heliofant Productions, American singer of classical Persian music, Jessika Kenney, film and  book reviews. Art and images from the portfolios of world artists, including Ron Mueck.
RETAIL LOCATIONS
STOCKISTS
USA
Barnes and Noble (Various stores)
Visit their store locator HERE to see which stores stock SUFI.

Europe
Foyles (London)
113-119 Charing Cross Road, London, WC2H 0EB
Watkins Books (London)
19-21 Cecil Court, London WC2N 4EZ
[wp_eStore_cart_fancy1_when_not_empty]